Industry-leading Professional Services Automation
Industry-leading Professional Services Automation
Being IT services organization, if your core business is running services projects then the key to growth is measurement and tracking of your project management, resource utilization and profitability. If you look at most of the solutions available in today's market no solution gives all three of this in a single solution.
With employees being scattered across the organization as well as at the client side, the key is they should have a system which they can access from anywhere to track their projects and update their activities.
NetSuite Openair is the only solution which ties up project management, resource management and project financials all into one single system.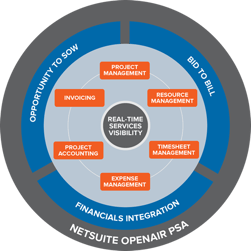 Explore the rich capabilities of world's leading PSA and see why the most strategic and successful services team rely on Openair every single day to run their businesses.
Click Here to explore OpenAir features such as Project Management, Resource Management, Project Budgeting, Project Invoicing & Billing and much more
Learn more about how our Professional Services Automation solution can help elevate your services delivery business